Save time and expedite processes with digital production payroll solutions.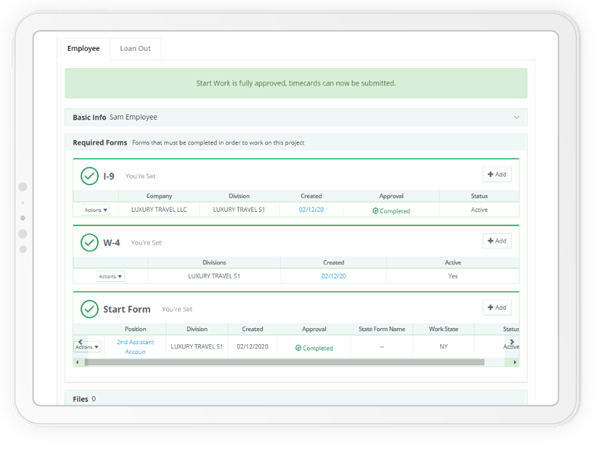 Onboard your crew in minutes, even before they arrive on set. Once you have employee email addresses, you can invite employees, which allows them to get set up early and for questions to be addressed ahead of time.


Eliminate incomplete form submissions, readability issues, and the possibility of lost notes and paperwork. Crew can securely enter and auto fill information across multiple forms.


Capture all the information you need, all in one place. Have additional forms other than the I-9, W-4 and start form that the employee needs to submit? Send them our way and we can set them up to be completed digitally.


Work the way you need to work with customizable approval flows. The approval flow can be adjusted at any time. If you find that your approval flow has too many or too few steps, needs additional approvers or approvers removed, just let us know and we'll make that update for you in minutes.


Improve workflow visibility. Easily see where a document is in the approval process and see who still needs to take action on outstanding documents.
Want to learn more? Check out our Help Center for resources like our Getting Started with Digital Start Work how-to handout to give your crew the information they need to easily get set up.