We here at GreenSlate are thrilled to be named on the Inc. Best Workplaces 2023 list. Being named among other top companies in the US measured on creating exceptional workplaces and company culture really does mean something.
It means we're doing something right for our employees just as we are for our clients which includes major studios, global franchises, independent storytellers, and award-winning productions.
We've always known GreenSlate is a great place to work and our employees say it all the time, so while we may not be surprised by the inclusion, we're still proud to announce it.
We're proud because it speaks to many of our shared values as a team; collaboration, growing fast, building innovative and industry changing tech, and doing good for the environment.
Though we're mostly proud of all of our employees – at all levels – who make this company what it is.
Creating a recognized, exceptional workplace and company culture as a remote-first organization is not without its challenges.
But with a forward thinking, employee-focused mentality to go along with our digital-first product, GreenSlate has been able to achieve success in building a vibrant and productive distributed workforce.
The key to pulling this off?
We value our employees.
We listen to them. We recognize them. We do our best to earn their trust and provide them with opportunity and understanding.
Value your employees and they will do valuable work.
John Finn, GreenSlate's Founder & CEO, believes earning recognition on a list such as Inc. Best Workplaces is a reflection of the principles the company was founded on, and continues to follow.
Finn says, "GreenSlate came to be because there was a better way to do production accounting and payroll than what was available at the time, and to do it with a strong focus on service."
"Your employees will better serve both clients and the company if they themselves are valued, given opportunity, and believe in the mission," Finn added, "It's in our DNA."
Third-party sourced feedback speaks to GreenSlate's strong employee value-based DNA, as one anonymous employee remarks, "GreenSlate has demonstrated they value the employees and treat them fairly."
Another said, "From the interview process to where I am now, I feel like I belong and that my strengths are valued."
That's why we're able to be selected as one of the 591 honorees out of thousands for Inc.'s Best Workplaces list this year.
It's also one of the big reasons why GreenSlate has twice before (in 2020 and 2022) been named to the Inc. 5000 list, which recognizes America's fastest growing companies.
Data speaks louder than words
Talking about having exceptional company culture and being a great place to work is easy to do, but harder to validate.
Think of it like a professional recommendation. If you're applying for a new job and have really strong professional recommendations, that'll take you much farther than just blowing your own horn with no credible proof points.
That's why you see companies and employees get excited about making lists like these.
It's outside validation, sourced by an impartial third party.
To get this validation for the Inc. Best Workplaces 2023 list, GreenSlate took part in a required employee survey conducted by third party provider Quantum Workplace. The survey included topics such as management effectiveness, perks, fostering employee growth, and overall company culture. 83% of our US staff participated in the survey. They also audited our benefits to help determine overall score and ranking.
The highest positive comments from our employees on the survey were for the topics of remote work environment, workplace flexibility, and GreenSlate culture.
Given the choice between favorable, uncertain, and unfavorable, 83% of our employees answered favorable in Engagement Outcomes, 85% favorable in Manager Effectiveness, and 87% favorable for Team Dynamics.
We also loved seeing the favorable rates for these three key areas: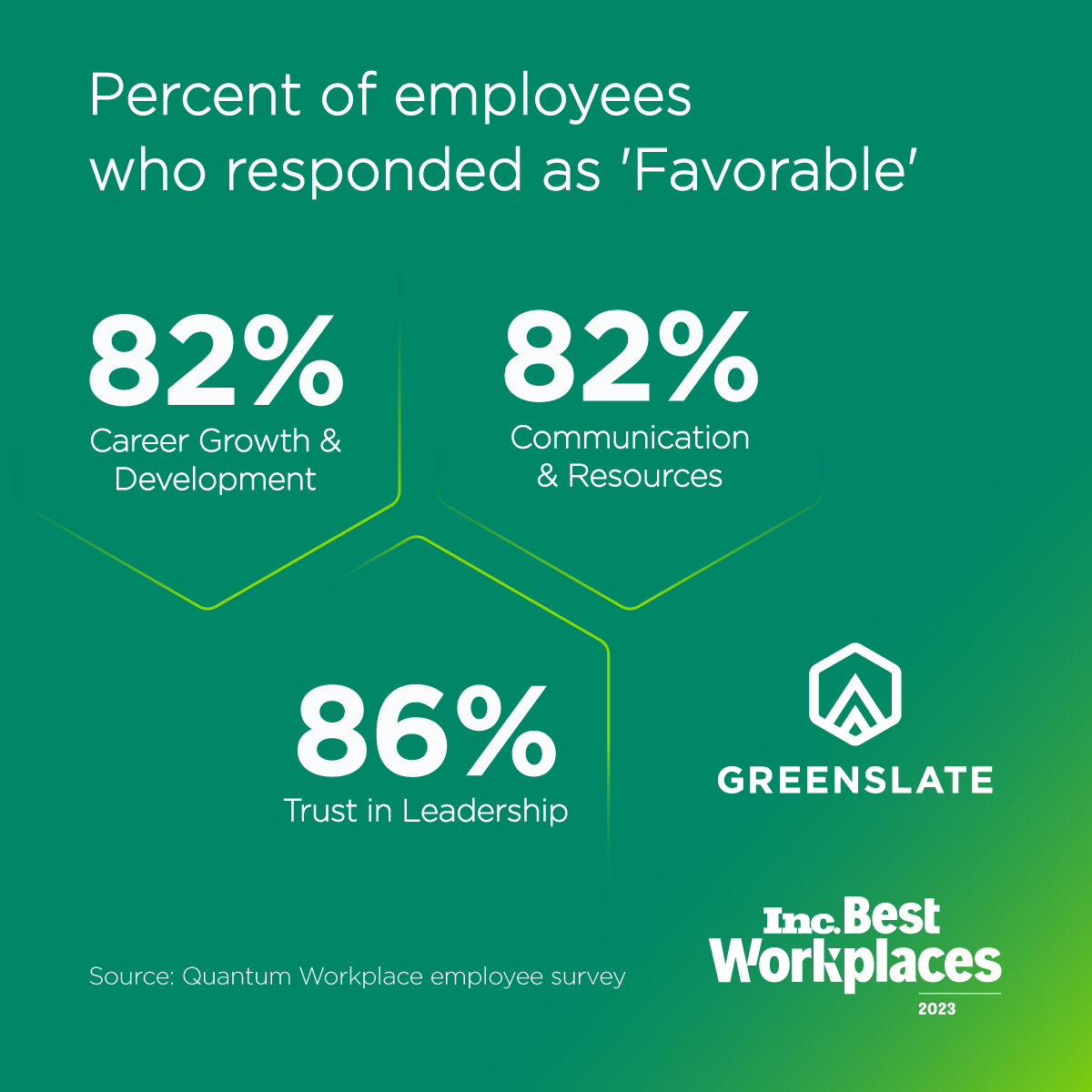 79% of our staff also marked "favorable" for Diversity & Inclusion. We're committed to maintaining and continuing to grow a diverse employee base; our talent acquisition strategy is designed to attract diverse candidates of all ages, races, genders, and religions, and of any sexual orientation.
Support from the top down
Leadership isn't leadership in a vacuum. Leaders who are available and engaged are the ones who earn the trust of their employees.
As one GreenSlate employee commented in the Quantum survey, "Senior leadership is available. Frequently seeing senior leadership and getting to interact with them in both casual and professional settings is a unique opportunity for many to be seen and heard."
Leadership that recognizes and treats the talent well is rewarded with success.
Ultimately, inclusion on a list like the Inc. Best Workplaces 2023 is more than just a self pat on the back for a job well done.
As Inc. Editor-In-Chief Scott Omelianuk says, "Proving to the world that you're a magnet for talent and have a culture that keeps teams engaged, productive, and proud to come to work is a truly remarkable achievement."
About GreenSlate
GreenSlate is a leading provider of technology and business solutions for media productions. We support the world's largest streaming services, networks, creative production companies, and independent storytellers.
We offer a full range of software solutions and services for entertainment payroll, production accounting, film tax credit management, and ACA compliance and benefits, giving production professionals real-time access to the information they need, when they need it, from greenlight to delivery.
GreenSlate's innovative all-in-one cloud-based platform is evolving the entertainment industry's back-office. Clients benefit from greater efficiencies, better access to data, and cost savings.
About Inc.
Business-media brand Inc.'s award-winning multiplatform content reaches more than 50 million people each month across a variety of channels including websites, newsletters, social media, podcasts, and print. For more information, visit www.inc.com.