Production can be unpredictable...
… and things don't always happen on a strict schedule. The last thing you want to worry about is whether your payroll is going to happen on time, and accurately. Yet, all too often, the shortcomings of your payroll provider can fall on your shoulders, usually in critical moments when you have the least time to deal with them.
Sometimes, the unexpected arises. And then, there are those issues you just shouldn't have to worry about, because you have a provider working accurately and seamlessly for you, behind the scenes.
Do these scenarios sound familiar to you?
Your accountant suddenly abandons your project, leaving you high and dry.
Your payroll provider delivers your payroll late, blaming the delay on technology constraints requiring a 48-hour turnaround.
You're dogged with issues from antiquated software that doesn't import or calculate properly; even worse, your support calls go weeks with no resolution.
No matter what the situation, you should count on your payroll provider to help you through the challenges that arise, to keep your employees satisfied, and to help streamline and automate your workflow while keeping your records in order and easily accessible.
At GreenSlate, we understand that problems with your entertainment payroll services can massively impact your production schedule, your budget, and your bottom line. We suggest that you consider a multi-tiered approach for support and service. When you're evaluating your payroll provider, be sure to ask yourself if you're getting:
Intuitive and easy-to-use interfaces that are backed by cutting edge technology.
We are constantly investing development dollars to provide our clients with the fastest, most accurate, and secure platforms and tools. Options like easy production accounting interfaces, digital time cards, direct deposit, and electronic startwork vastly reduce the room for guesswork and error.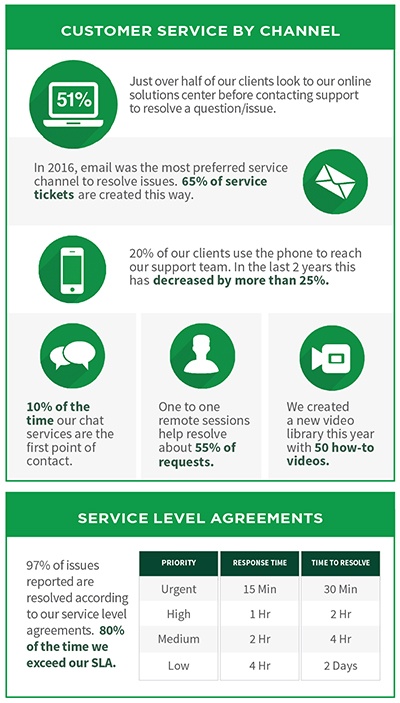 Digital, phone, and live support all available in the easiest and most accessible ways.
Our clients can expect our customer service to be accessible at all times on all channels, and we're always actively monitoring client preferences to evolve our services. At GreenSlate, support is available 8 am - 9 pm EST with 24/7 after-hours support via email or phone.
A support team comprised of true experts.We know giving clients access to a greater depth of knowledge is more efficient and ultimately results in greater client satisfaction. So we put subject matter experts on the team: accountants, IT professionals, and software help desk professionals, and we back them up with bi-coastal support teams.
A culture that puts the client first, always.
More than anything, we live and die by the mantra that nothing matters more than the highest standard of client support at every turn. And we think you should expect nothing less from your payroll provider.
In 2016, we conducted an independent study to see how our service and support measure up in the industry. We asked users of all industry platforms who they ranked the best for service and support. We came out on top: number one for customer service vs. competitor payroll companies in the industry. We're especially proud of this because it means our staff truly embodies the idea that the client always comes first. Make sure that your payroll provider feels the same way about you.
Want to learn more about what makes great service and support? Check out all we have to offer here. And please let us know in the comments section what terrific service means to you.