Don't miss 'I Care A lot,' 'Nomadland,' and 'One Night in Miami' at the 45th annual Toronto International Film Festival (TIFF). This year's festival will take place September 10 – 19 with physical screenings and drive-ins, digital screenings, virtual red carpets, press conferences, and industry talks.
One of the largest and most prestigious film festivals in the world, TIFF is dedicated to presenting the best of international and Canadian cinema and creating transformational experiences for film lovers and creators of all ages and backgrounds. The 2018 and 2019 festivals featured 'Boy Erased,' 'Destroyer,' 'Bad Education,' and other production payroll client projects.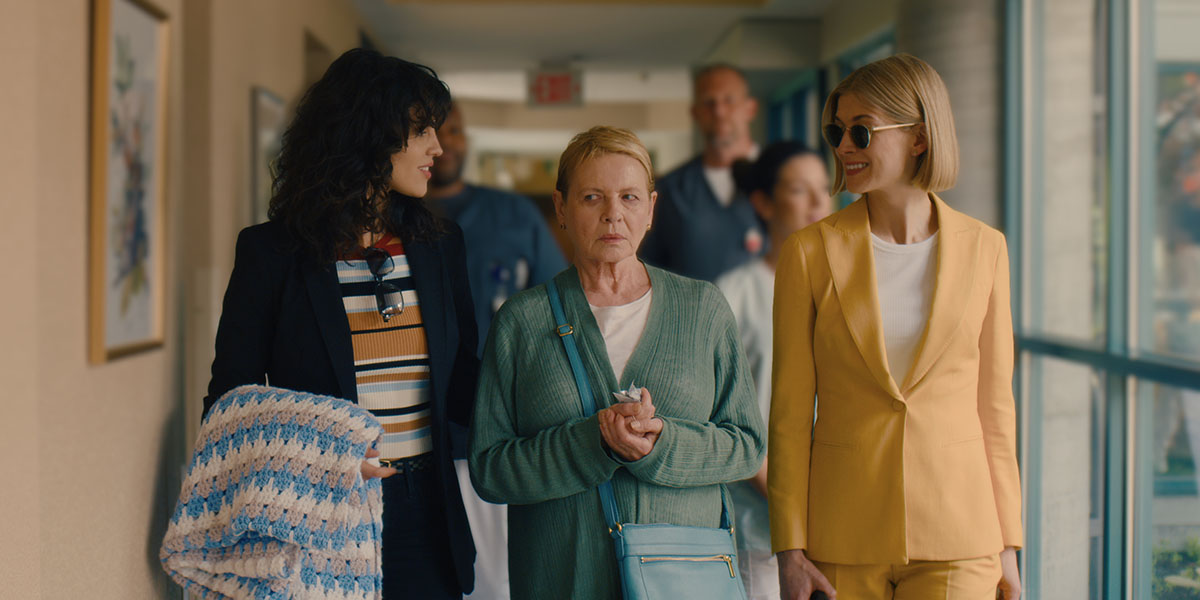 From the festival:
"A legal conservator (Rosamund Pike) who defrauds elderly clients runs afoul of a gangster (Peter Dinklage), in this droll thriller from J Blakeson.
Parens patriae refers to a government's obligation to protect those of its citizens deemed too vulnerable to care for themselves. Although altruistic in intent, it is a principle that has been exploited to forcibly place senior citzens under the care and control of court-appointed guardians. With his sardonic thriller 'I Care A Lot,' writer-director J Blakeson ('The Disappearance of Alice Creed') lays out the duplicitous means by which these guardians can overmedicate, gaslight, swindle, and even kidnap their elderly wards, all within the bounds of the law.

The ice-cool Marla Grayson (Rosamund Pike) is one such unscrupulous profiteer. Having made a mint selling off the assets of the dozens of retirees trapped in her permanent care, she and her partner Fran (Eiza González) stumble upon a veritable golden goose in the form of Jennifer Peterson (Dianne Wiest), a mark with no apparent family or debt, only a tidy fortune to be mined. But, while applying their scam, Marla and Fran soon discover that Ms. Peterson is not who they thought she was, and that their actions have disturbed the designs of a crime lord (Peter Dinklage).
Part cautionary exposé of all-too-real elder abuse rackets, part welcome excuse to pit the wickedly entertaining Pike and Dinklage against each other in a game of uproarious reprisals, 'I Care A Lot' barrels along a twisty trajectory rife with terribly dark, but darkly funny, behaviour — as well as adamant reminders to please respect your elders."
- CAMERON BAILEY
Director:
J Blakeson
Cast:
Rosamund Pike, Peter Dinklage, Eiza González, Dianne Wiest, Chris Messina, Isiah Whitlock Jr., Macon Blair
Executive producers:
Andrea Ajemian, Sacha Guttenstein
Producers:
Teddy Schwarzman, Ben Stillman, Michael Heimler, J Blakeson
Production company:
Black Bear Pictures
Learn more and see showtimes: tiff.net/events/i-care-a-lot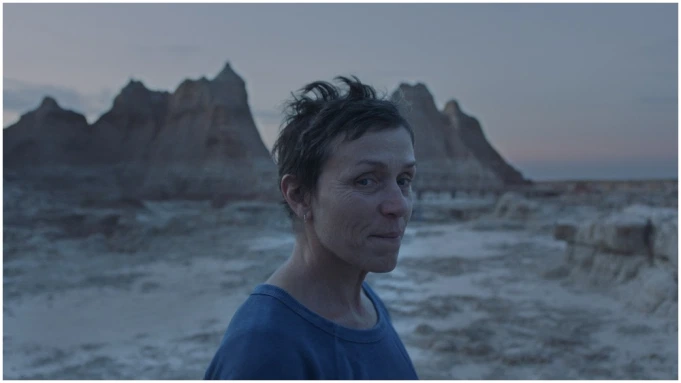 From the festival:
"Frances McDormand explores the vast landscape of the American West, in Chloé Zhao's wise and intimate portrayal of life as a modern-day nomad.
The first few images of Frances McDormand as Fern establish the will of this woman straight away. She's on her own, working itinerant jobs, hitting the road when it's time to move on. "I'm not homeless," she says to an inquiring friend's daughter. "I'm just… houseless. Not the same thing."
Fern drives her old RV up and down the highways of America's West, following the seasons and seasonal jobs. When she discovers a community of like-minded nomads, her heart opens, but she's cautious about forging bonds. One man she keeps running into (David Strathairn) looks like a perfect match, but what does Fern need with a boyfriend — or anyone, really.
Adapting Jessica Bruder's non-fiction book, Chloé Zhao writes, directs, and edits with impressively crisp focus. The film gets into and out of every scene with rare economy, cutting to the heart of each moment in our growing understanding of Fern.
'Nomadland' arrives between Zhao's award-winning prairie drama 'The Rider' and her upcoming Marvel superhero movie, 'The Eternals.' It's yet more evidence of what makes her a singular filmmaker and one of the most important new voices in American cinema. Zhao seeks out characters living in the margins of society and on the periphery of movie heroism, and shows us why these seeming outcasts define America, and movies, more than the big-screen protagonists we're used to. As we watch Fern eke out a living in precarious jobs, try and fail and try again to form relationships, and all against stunning expanses of desert and sky, it's clear that we're watching a portrait of America now."
- CAMERON BAILEY
Director:
Chloé Zhao
Cast:
Frances McDormand, David Strathairn, Linda May, Charlene Swankie
Producers:
Chloé Zhao, Frances McDormand, Peter Spears, Mollye Asher, Dan Janvey
Production companies:
Highwayman Films, Hear/Say Productions, Cor Cordium Productions
Learn more and see showtimes: https://tiff.net/events/nomadland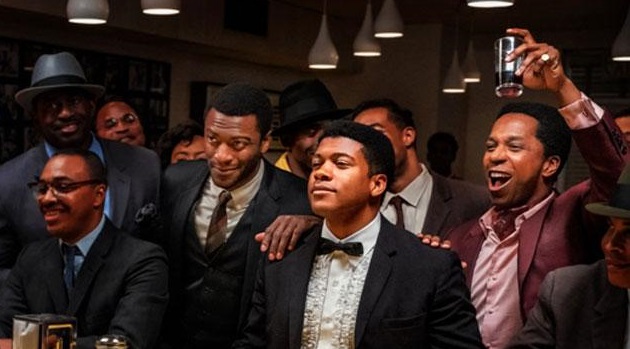 From the festival:
"Actor-director Regina King's feature directorial debut, based on Kemp Powers' play, is a fictionalized account of a 1964 meeting between Malcolm X, Muhammad Ali, Sam Cooke, and Jim Brown.
Fresh on the heels of her Academy Award for 'If Beale Street Could Talk' and her acclaimed lead performance in the 'Watchmen' television series, Regina King makes her feature directing debut with a drama that draws entertainment and activism, fame and principle, together on one fabled evening.
'One Night in Miami' imagines a night in February 1964, when real-life friends Cassius Clay, Jim Brown, Sam Cooke, and Malcolm X gather to celebrate Clay's win over Sonny Liston, which made him the heavyweight champion of the world. Triumphant and playful, Clay (Eli Goree) — who'd soon take the name Muhammad Ali — is looking to party, but both he and football star Brown know that's only a temporary escape from the civil rights abuses that limit the lives of even celebrated Black Americans. In one potent early scene, Brown, played by Aldis Hodge (Clemency), visits the home of a white benefactor (Beau Bridges) and gets a harsh reminder of just where he stands.
When Clay and Brown are joined at a swank Miami motel by the sober-minded Malcolm X (Kingsley Ben-Adir) and the flashy pop star Cooke (Leslie Odom Jr.), the four men begin with banter but soon root down to the hard questions facing them. Should successful Black entertainers speak out against racism? How best can Black celebrities serve the Black community? Are money and fame reward enough for humiliation? Working with screenwriter Kemp Powers to bring his original stage play to the screen, King and her actors attack these conversations with the urgency, depth, and humour the subject still demands today."
- CAMERON BAILEY
Cast:
Kingsley Ben-Adir, Eli Goree, Aldis Hodge, Leslie Odom Jr.
Executive producers:
Regina King, Kemp Powers, Paul O. Davis, Chris Harding
Producers:
Jody Klein, Jess Wu Calder, Keith Calder
Production companies:
ABKCO Films, Snoot Entertainment
---
For more lineup announcements and additional information about the Toronto International Film Festival, visit https://www.tiff.net/tiff/