Chloé Zhao's followup to "The Rider" is the centerpiece screening of the 58th annual New York Film Festival, scheduled to run September 17th through October 11th. Last year's New York Film Festival centerpiece was Noah Baumbach's "Marriage Story," which went on to land multiple Oscar nominations.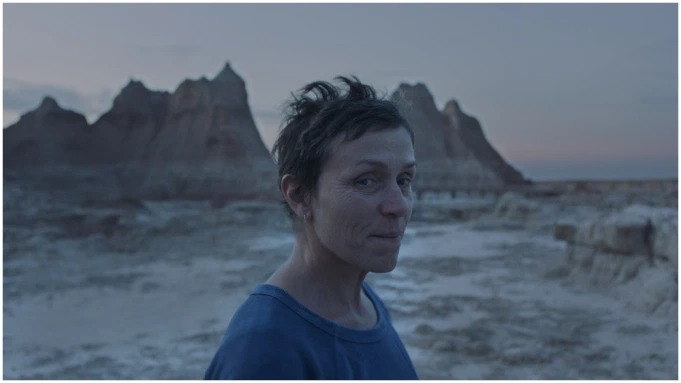 IndieWire's Zack Sharf said Zhao's "Nomadland" is "shaping up to be the first festival darling of the fall season." The film has also screened at the Venice Film Festival, the Toronto International Film Festival, and as part of a special Telluride-hosted drive-in event in southern California.
"Chloé reminds us that film has the power to connect us no matter how far apart we might seem. We hope this special film can move audiences across the world and further support global cinema," said Searchlight Pictures chairmen Nancy Utley and Steve Gilula.
"Nomadland" follows Fern (Frances McDormand), who embarks on a journey through the American West after losing everything in the Great Recession, living life outside of conventional society as a van-dwelling modern-day nomad.
The role is McDormand's first major leading turn since winning the Best Actress Oscar for "Three Billboards Outside Ebbing, Missouri." The film also features real nomads Linda May, Swankie and Bob Wells as Fern's mentors and comrades in her exploration through the vast landscape of the American West, as well as Oscar-nominee David Strathairn.
Based on journalist Jessica Bruder's non-fiction book "Nomadland: Surviving America in the Twenty-First Century," McDormand and Peter Spears acquired the literary adaptation rights shortly after the book was published in 2017. "Nomadland" is a Highwayman Films, Hear/Say Productions, and Cor Cordium Productions project. The film is produced by McDormand, Spears, Mollye Asher, Dan Janvey, and Zhao.
A domestic theatrical release is planned for the fall, with a subsequent rollout internationally.
Learn more about the film: https://www.imdb.com/title/tt9770150
Check out other recent production payroll client projects: blog.gslate.com/topic/client-projects