Does it keep you up at night trying to find the next Leo or Charlize? No, we don't mean stalking the actors like paparazzi, we're talking about finding top tier talent for your next movie. What about locating the director that will helm your future project à-la Chloé Zhao, Aaron Sorkin, or Sofia Coppola? Or discovering the melodic genius who will create tomorrow's scores in the likes of Hans Zimmer, Hildur Guðnadóttir, or Clint Mansell?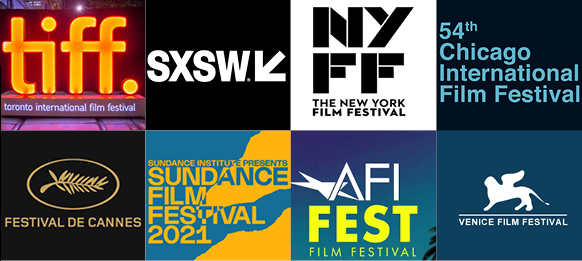 Put on your blazer or tuxedo jacket - sans pants of course - or dress and get ready to virtual event like never before. Some of the best filmmakers of our time have come out of the Independent film circuit at events such as the Sundance Film Festival, held in the idyllic mountain town of Park City, Utah. Sundance gave birth to the careers of Wes Anderson, Steven Soderbergh, and the Coen brothers, just to name a few (we bet Anton Chigurh just loves that).
Film festivals and events offer the chance to mingle with gifted directors, actors, composers, screenwriters and even producing partners, now from the comfort of your own home. Sure, you may be petting Fido or begging Fluffy to stop meowing during the credits, but that won't stop you from connecting with potential investors from your keyboard.
As the industry pivoted to adapt to COVID-19 changes, events started offering their content online rather than in-person. A hybrid format emerged that includes virtual interviews, online screenings, and live Q&A sessions, as we have seen with Sundance, SXSW, New York Film Festival, Gotham Week, and many others. Now that events are more accessible, we are one step closer to living in the world of Blade Runner 2049 - we just have to wait on Elon for those flying cars.
With the rise of industry events and film festivals, including TIFF, AFI Fest, Tribeca Film Festival and more, opportunities abound regardless of what kind of film you are creating; whether shooting your first short, a television movie, or an independent feature. Events such as these are an excellent way to meet budding filmmakers that are itching to get their break at a feature length project.
So how do you turn happenstance into opportunity to associate with said talent? If an event offers the opportunity to linger in a chat room or a live Q&A session, feel free to ask a composer who their musical influences are, or whether they prefer orchestral or synth. Tell that director how much you enjoyed their movie and inquire about what their next project may be. Start a conversation with actors on what they are binging and the type of movies they enjoy. You can get a sense of their personality and see if they are a good fit with you and your crew. Now more than ever, it is acceptable to interact online at virtual events without seeming like Annie Wilkes approaching her favorite author.
Of course, no one likes being a fish out of water, but we implore you to grow legs and explore movies in genres you would normally disregard. A horror movie may have a haunting score with a talented composer, or a sci-fi movie may offer a glimpse into the world of a burgeoning director. The lead in a romantic role may be perfect for your next buddy-cop drama. And what about the tearjerker with the excellent dialogue? Make sure to get the name of the screenwriter so you can connect with them later. Getting out of your comfort zone will open doors to you that may have otherwise remained closed.
Let's switch channels real quick like WandaVision: do you remember where you were when you first saw E.T.? How did you feel when you first glimpsed the reverse Polaroid shot in Memento? Does John Williams's score in Star Wars illicit joy and excitement for space travel or does the scrolling introduction of a galaxy far, far away fit your interstellar fancy? How many children of the 90's have become paleontologists due to Jurassic Park?
No matter the size of the film; from short, to independent, to studio, movies aren't just movies. They are part of our culture and embed themselves in our lives for many generations to come, regardless of background or circumstance. Get ready for the soapbox, because here it comes. We are in the business of storytelling, of providing myths and legends to current and future generations and partnering with the right talent on that journey is just as important as getting the film made.
To roll the credits on this here post, nothing can replace the feeling of walking into a dimmed theater while your fellow attendees hush themselves in anticipation of the screening. Or the smell of buttered popcorn as the trailers begin to play onscreen and phones are silenced once more. But for now, until the world returns to normal - or a new normal - we will pivot as we have always done. Pivot to discover new ways of unearthing talent at industry events and independent film festivals no matter how difficult that may seem in the current circumstances. As the good Captain Picard said: "things are only impossible until they are not."