A massive hurricane shut down production. Everyone evacuated. But business never stopped. Payments were the one thing they didn't have to worry about.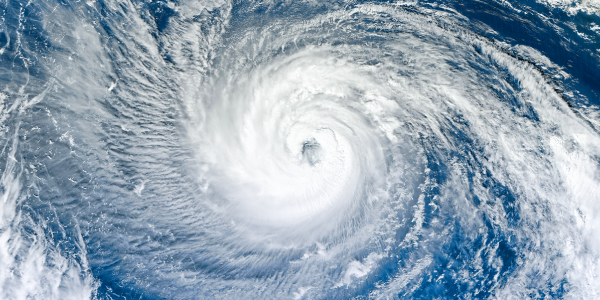 In August of 2021, a client feature was filming outside New Orleans. A storm was heading for the region and the show's producers told the crew to evacuate. An accountant on the project figured they'd shut down shooting on Friday, take a couple days off, and pick up again as soon as the bad weather passed. She threw a weekend's worth of clothing into a backpack and hitched a ride home to Austin.
Hurricane Ida made landfall in Louisiana on Sunday, August 29 as a category 4 storm, one of the biggest to ever hit the U.S. More than a million people in the state lost power. Some areas, like LaPlace, which is just outside New Orleans on the Mississippi River and where the show had a soundstage, were completely covered in water.
"As we were getting evacuated, I got an email from our finance executive, a lovely guy and very understanding. He was like, 'The number one concern right now is your safety. Please let us know once you're out of the storm path,'" the accountant recalls. Then, she says, he added: "'And also, we need to ensure continuity of payments.'"
In fact, as production shut down, equipment was locked in trucks on the lot, and people hightailed it out of town, that was one thing the accountant wasn't stressing over. "That's the beauty of having a digital system," she says. "We literally didn't need to worry about anything in our office other than taking our laptop."
While outrunning a hurricane isn't your run-of-the-mill production snafu, the entire industry had a similar experience when COVID hit, bringing filming to a screeching halt and forever changing how film and television get made.
We spoke to the accountant about how the cast and crew got out of harm's way and how GreenSlate's all-in-one digital payroll and accounting system ensured they didn't skip a beat (or a single payment).
Set the scene for us. What happened when you were in New Orleans?
The entire shooting crew was on location about an hour away from New Orleans. And then we were also prepping for the second unit to start shooting there, so they were all in New Orleans, getting ready to go.
I get the call on Thursday afternoon that the producer has given us the go-ahead to start evacuating distant hire employees. We had no idea how bad the storm was going to be, but they were being cautious. The production company wanted to ensure the safety of the crew, even if it cost some money to get us out. They were like, "We're just going to spend the money, evacuate everybody, and then if it's fine, which we're hoping that it is, everyone will just come back to work Monday." Obviously, that didn't happen. On Monday morning they started to fly people from the evacuation location to their homes.
If there had been a stack of papers in the office, who would have taken it? You could have had a PO over here and payroll forms over here. You would also have to be like, "Oh, what's sitting with the producer right now for approval? Should we go get that stuff from him?"
When the finance executive said you needed to ensure the continuity of payments, were you thinking, "I have no idea how I'm going to make this happen."? Or were you like, "I got this?"
It was more like, "I got this." When we were packing up the office, rushing to get out, we were not at any point worried about How do we get our files? Do we have to pack up all our files and bring them with us?
It was very reminiscent of when COVID shut down the industry. We were paper based then, so my boss and I were trying to frantically process as much as possible so that we didn't have to take it with us. Her and I both got in our cars and drove across the country to Texas. We came home with boxes [of paperwork]. She had some things, I had some other things. We were scanning things to each other and putting them in DocuSign and sending them to the producer to sign. I'm at my kitchen table with my computer and my scanner and a printer, being like, "Where was that thing? Was that in process?" It was chaotic.
So we had already had an experience where we had to pack up our office in five minutes and just hit the road, which was very similar to leaving during a hurricane. And the huge difference was that we were prepared this time.
How did having GreenSlate's technology help you keep up with payroll when Hurricane Ida hit?
Because GreenSlate has digital timecards, even when we had been evacuated, anyone who had a computer could still submit a timecard. They could do it from their phone, even. And a lot of people only have their phone. That's not really something you can easily do with even other digital options — often it's difficult for them to submit from their phone and then get their department head's approval, or whatever it may be. Whereas GreenSlate enables you to do all of that from one digital place where everybody on the crew is working. So we continued to be able to process payments for crew members, even though things were very chaotic and they were all over the place. It was really important that money kept flowing to people, particularly local people [who had to evacuate their homes]. They were using that money to pay for hotels.
Before COVID, a lot of paychecks were physical checks. When we started on this, we pushed pretty hard for everybody to sign up for direct deposit. So the only payments that were lost during that time were anybody who didn't sign up for a direct deposit. Those people were few and far between. GreenSlate makes setting up direct deposit super simple, because it just links directly to your bank logon. In other programs, to sign up for direct deposit you have to manually type in your routing number and your banking number and then attach a voided check. All those people who were signed up for direct deposit, they were still getting their money in their bank account.
That must have been good for accounts payable, too.
Being able to continue to get payments out to vendors, particularly local vendors — that was something that I personally found really important. We wanted to keep money flowing into the local economy as they were being slammed with lots of new expenses and trying to bail themselves out of whatever hole the storm had left them in. I remember this one vendor, a transportation vendor, emailing us, saying, Thank you so much for just staying on top of getting us paid while we're trying to get back up on our feet. We were already paying everything to vendors with ACH, we already had their banking info, so we were able to continue putting that money in their bank accounts, even if their businesses were shut down for a month.
A big thing was that because [GreenSlate has] a fully digital approval chain, our production supervisor, who was in LA, and our producer who was in Texas, and us — we were all over the map — we were all able to continue to stay on the same page and get things continuing in the exact same way they already were. We didn't skip a beat. It didn't mess up our workflow at all. We were able to still make those payments because it was fully digital.
That same thing applies to having a COVID event on set. That's been happening a lot on shows. When I got COVID and I had to quarantine, my entire team wasn't suffering because we were able to ensure that continuity.
Going digital is important when we're talking about adapting to climate change, which is causing more hurricanes and flooding. But it's also helping mitigate climate change because you don't have to fly as much, which emits a lot of carbon into the atmosphere.
My boss worked fully remotely from her home in Texas. That was better for her family life. And she didn't have to get on a flight to go to New Orleans and get a second place to live in New Orleans and get another car to drive while she was in New Orleans. She was able to do that because we had a fully digital system. It just couldn't have happened two years ago.
How are the studios you've worked with using digital solutions to improve business continuity?
Coming back from COVID, all the people who work in finance at the production company were very much looking into digital options. They've been on the forefront of that — they were using digital POS systems already, they were using digital start work systems. They're very invested in a future where we all have digital solutions for our digital problems.
Quite frankly, doing our jobs on paper is outdated. It's archaic. We work in the film industry — which is a technology-based industry — and the year is 2022, but there are still shows who are doing their jobs on paper.
Truly sustainable entertainment production requires a holistic approach. That includes scaling down your physical footprint and energy use with less equipment, eliminating paper waste (bye-bye, bankers boxes!), and reducing your carbon footprint by cutting back on air travel and offering remote work options. GreenSlate's efficient, all-in-one digital solution enables a spectrum of impactful business upgrades, while also ensuring your workflows are resilient to whatever challenges this changing world throws your way. Contact us to learn how we can help you meet your sustainability goals — and keep your business moving through anything.