No desk? No problem! Gone are the days of waiting around for a PA or clerk to bring checks for signatures, losing important documents as they are transported to and from set, and storing boxes on boxes of paperwork.


With GreenSlate's all-in-one web-based payroll and production accounting app and digital workflows, you can sign and approve production documents and checks from anywhere - from your phone, laptop, or tablet. No paper is required. Using your mobile device for approvals is now easy, accessible, and better than ever. Anything you can do on desktop, you can also do on mobile.

Not only does the app allow producers and department heads to work from anywhere, GreenSlate immediately notifies users when a document is ready for approval, giving you the freedom to stay informed and review at your convenience.

Plus, approval flows are customizable. Our production accounting and payroll software is about more than just "digitizing" paper and paper-based processes. There's a better way. While we can mimic your paper workflow, we can also work with you to streamline your current processes so that your team can work more efficiently.

You can designate who your approvers are, by person or by role, indicate the order of approvers, indicate whether an approver can be skipped, designate who needs to sign, set up conditional approval steps based on amounts, and set automated notifications throughout the process to help keep everything on track.

Our onboarding team works with your team to make sure you have the flexibility you need and that everything is configured to work the way you work. Below are just a few examples of how productions have customized their approval flows.
An unscripted TV production company's post department added required additional approvals that were only required for that department.
A film production added required additional approvals for their POs over a certain dollar amount.
A film production gave access to department heads to submit timecards on behalf of their department and gave another department head access to both submit and approve.
From the "Approval Flows Steps" grid, you can see all past and present approval flows from all the projects you have access to, directly in the app.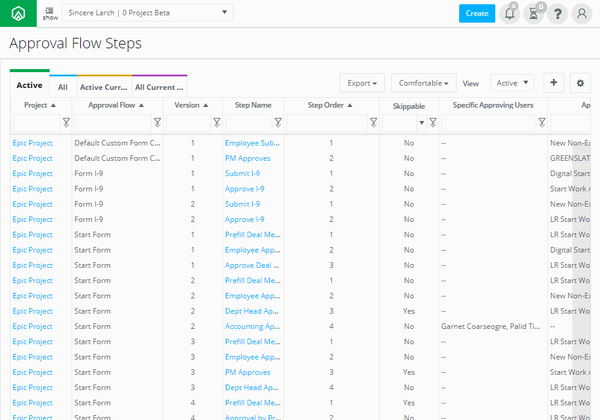 You can see the approval flows for previous seasons or projects, as well as for various versions within a single project. Approval flows are easily distinguishable with specific Approval Flow names (i.e. Timecard Hours, Purchase Orders, Bill Payments, etc.), along with the Step Names (i.e. Create Timecard, Submit Purchase Order, Approve Bills, etc.).
Whether you have specific users or designated roles assigned to a step, you can easily see who within your project has the ability to approve each step.
And because your team, your crew, and our paymasters all work in the same app, approvals and communication are streamlined, and information is easily accessible. You don't have to worry about illegible documents or chasing down receipts. Digital check copies with backup PDFs, purchase orders, receipts and invoices are all available in the app. And across all the grids in the application, you can create a custom view to see the data most important to you. The views you return to most can be saved as custom views and exported as custom reports.
We know you have a busy schedule, which is why we are constantly working hard to evolve and enhance our features. Learn more about how GreenSlate is tackling the challenges of production, so you can focus on the issues that matter.