A group of Gen Z-ers gathers at a remote mansion for a weekend party. After considerable amounts of drinking and drugs, they decide to play a game of Bodies Bodies Bodies.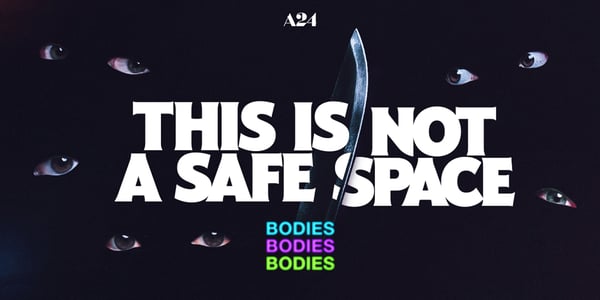 In the game, one player assumes the role of "killer" and tries to murder other players in the dark by touching them without being identified by the other players. Mayhem ensues as people start dying for real. Friendships in the group dissolve as they struggle to figure out who is doing the actual killing. The arrival of a hurricane adds to drama and anxiety in the group.
Bodies Bodies Bodies follows a great horror tradition of using bloody mayhem as a vehicle for social satire. Just as George Romero poked fun at '70s consumerism with Dawn of the Dead, and Mary Harron's American Psycho humorously critiqued '80s-era Wall Street bros, so Bodies Bodies Bodies expertly spears Gen Z and its obsession with phones, social media, and performative open-mindedness about class, race, and sexuality," wrote Clark Collis for Entertainment Weekly.
The screenplay, written by Sarah DeLappe, is loaded with twists and turns to keep audiences guessing.
This Gen Z-skewering slasher film is an absolute must-see starring Maria Bakalova, Pete Davidson, Amandla Stenberg, and Lee Pace. "Bodies Bodies Bodies" boasts a 96 percent rating on Rotten Tomatoes.